ISO 9001:2015 and IAF Certified
Byahut Tea Company's ISO 9001:2015 and IAF certifications underline its dedication to maintaining high-quality standards in green tea production. These certifications signify a commitment to consistency, customer satisfaction, and continuous improvement in their processes. We also provide global recognition, instilling trust in customers and giving the company a competitive edge. Byahut Tea's certifications demonstrate a strong emphasis on quality and excellence in the industry.
Goods and Services Tax, India
Being registered under the Goods and Services Tax (GST) in India is a legal requirement for businesses with an annual turnover above a certain threshold. For Byahut Tea Company, this registration signifies compliance with the country's taxation laws. It means they are authorized to collect GST from their customers on their sales and remit it to the government. Additionally, GST registration enables Byahut Tea to claim input tax credits, which can help reduce their overall tax liability and enhance their competitiveness in the market.
Export License from the Government of India
Obtaining an Export License from the Government of India is a fundamental requirement for Byahut Tea Company to engage in international trade. This license demonstrates the government's approval and authorization for the company to export products, including tea, to foreign markets. It signifies compliance with export regulations, documentation, and quality standards. This license also enables Byahut Tea to benefit from various export-related schemes and incentives provided by the government, further facilitating their international business operations.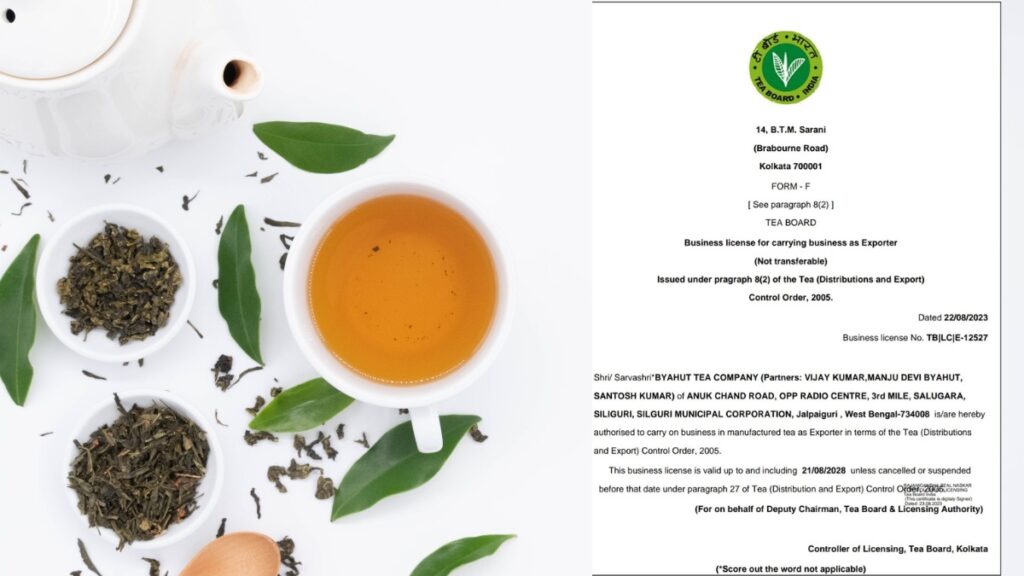 Registered under the Tea Board of India for Export
Being registered under the Tea Board of India for export is a critical recognition for Byahut Tea Company. It signifies their compliance with the regulatory standards and requirements set by the Tea Board, which ensures the quality and authenticity of Indian tea exports. This registration allows Byahut Tea to legally export tea, demonstrating their adherence to the specific regulations governing the export of tea products from India. Moreover, it enhances the company's reputation and credibility as a reliable tea exporter, which can open doors to international markets and potential partnerships.
Byahut Gold is the mark of Byahut Tea Company
The trademark "Byahut Gold" registered by Byahut Tea Company serves as a legal and exclusive brand identifier for their tea products. It signifies that "Byahut Gold" is a unique and protected brand owned by the company, offering distinct recognition in the market. This trademark protects the company's brand identity, preventing unauthorized use or imitation by competitors. It also assures customers of the product's origin and quality, fostering trust and loyalty among consumers.